As Singapore's National Day draws around the corner, I'm getting inspired by the diverse offerings that Zalora has online! As I'm one whose all for dressing up for the occasion, I decided to pull together a few of my favourite looks and items. while trying not to click to shopping cart everything gorgeous on each page that I trawled.
But while we embrace patriotism on our country's49th birthday, let's trrrrrrry not to get overly literal on the theme. Besides the usual red and white getup, I though it would be interesting to get some creativity from our national landmarks...such as:
1) Art Science Museum
Designed after the look of an open lotus flower, the ArtScience Museum represents Singapore's inclination and embracing towards the construction of attractions boasting ultra-modern architecture. One can pay homage to the architectural landmark, with this White Moon beaded clutch bag in Ginger Silver, which also comes with a bag sling for easy carrying. Perfect for that dinner soiree event, and also comes in a darker shade 'Midnight' which gives an ethnic feel that's versatile for day.
2) The Merlion
Half lion and half fish, the Merlion is a emblem that uniquely Singaporean. The fish body represents Singapore's origin as a fishing village, whereas the lion head signifies Singapore's original name—Singapura, "the lion city". Similar to its scales, I spotted this darling Quartte scaled cuff in gold to add a dash of glam to any basic outfit. I love the minimalism in the design, you can either wear it alone or layer with other bracelets.
3) The National Flag
The significance behind our National Flag has always been rather meaningful, which describes the growth of our nation and the values that make us special. But rather than following blatantly the colours of the flag, there is a more subtle way to incorporate it by choosing hues in the same color family like Burgundy and vermilion or cream and ivory.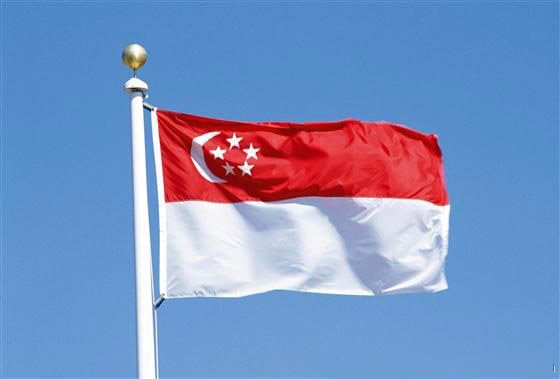 -Red:
universal brotherhood and equality of man

I am not usually a fan of overalls, but this Kikikeli's Leatherette Suspenders Dress (Wine) is one for keeps, as the material comes in a more luxe faux leather material, and stays interesting with an exposed zipper in the front and fold-over hem detail. Next is the High Slit Scarlet skirt from UNSPOKEN; a must-have basic with a sexy side slit to give those gams such much needed air-time. Stay cute with these heart-shape printed drawstring shorts from BONWEEKEND, super comfortable and breezy for the sweltering weather we are experiencing these days.
-White:
pervading and everlasting purity and virtue
White is ever classy and oh-so wearable for anyone. Here I started off with with this
Fauna & Floral Print Dress from The Scarlet Room
- a halter style dress that I think really brings to mind our "Garden City" reputation. Not only is the cut and fit flattering, the prints are simply eye-catching. Also from the same brand, I found this
Asymmetrical Peplum skirt
, a very versatile basic with an edgy twist for work or play. And nothing completes your look better than cute footwear, and I love these cream
VRINZ Leather Candice Wedges
, which adds a summer feel and work well with nearly any length of dress/skirts.
That's it from me, some cool outfit ideas to consider if you're heading out for the public holiday.
Shop for National Day at ZALORA Singapore
and sign up for their mailing list today to stay updated for their exciting offers!